Trusting God for the Children
This song was one of my favorites during my youth.Psalm 20:7 I liked it because it was an upbeat, joyous song about our Lord, reminding us that even if others put their trust in the machines of war, our ultimate trust was to be in God. It is well to sing songs, but another matter to put trust in God for something you KNOW YOU CANNOT DO! But, He is my hope, my song, my strong tower, the lifter of my head, my everything in this world. I cannot look to any individual to provide enough money to meet the needs of orphans in a third world country. It is God that touches hearts, it is God that orchestrates connections, it is God that goes ahead and is in fact there in His omniscience, tenderly taking care of them much better than I ever could. So, we are declaring, we trust in you God! I have learned that I can't trust how I feel anymore. This has been a very confusing, difficult year to walk through filled with exciting highs and devastating lows, but God does not change and I can count on God's word and His faithfulness and that is enough. I will remember the name of the Lord MY GOD and we can continue saying that He is the One that has provided.
School Needs Text Books
In the last month, so much has happened! We were notified in September that changes had been made to the Kenyan School Syllabus, requiring the immediate purchase of brand new text books in each grade level. As you know, that is very expensive, but someone sent in funds at the perfect time, enabling us to purchase books. Thank you Jesus!!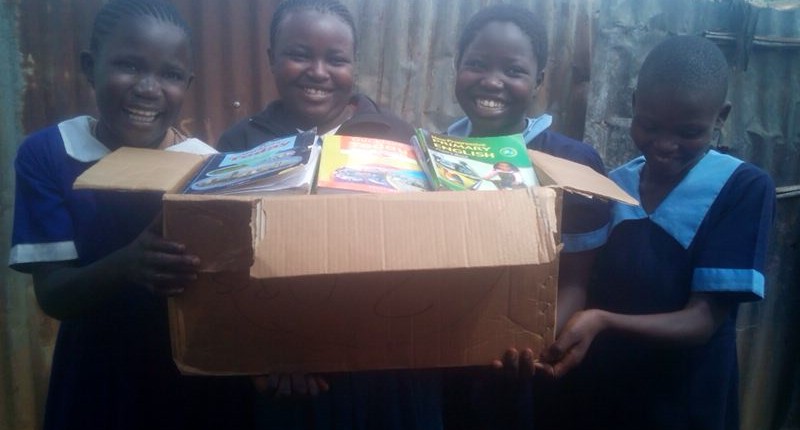 Teacher Training & Shoes
Monica recently attended teacher training in Nukuru. She will be holding training sessions for the teachers at Miracle Victory Children Centre to pass along her newly acquired knowledge. At another training session, teachers were asked to list some of the major needs at their own schools. Monica decided to list the need for shoes as a high priority. What a blessing, when she later learned that the children would each receive a pair of Tom's! Tom's usually requires biannual follow up after a child has been given a pair of shoes. If that turns out to be the case, each child will receive a new pair of shoes every 6 months! How cool is THAT!! I was super excited about this because more than 2 years ago we had sought out Tom's, filled out applications and attended meetings in Nairobi to investigate being a Tom's partner. After expending lots of energy, we learned that we would be responsible for distributing 1000+ shoes biannually to children and be responsible for the shipping container and any taxes due. It was overwhelming to even think about the time, energy and expenses we might be faced with in this type of commitment, so we just put those ideas away on a shelf. But God, He had better provision for the children. He made arrangements for Monica to attend training, write down our needs and then later learn that Tom's shoes would be delivered to our children!! So much better than my plans and the ensuing stress and responsibility. Thank you God for your goodness to the children!
School Demolition Slated
A little over a week ago, we learned from Paul Obia, our Kenyan Contractor, that our current school will be demolished because of it's location. All shanties that are close to the railway will be demolished to make way for permanent structures. While this is a great step, it means we will not have a place to continue school coursework. We are trusting God and believing that money will come in to pay for the new school to be completed. God is able to do amazing things and we know He wants good for these children. He will touch people to give and there will be more than enough to continue feeding the children, providing teacher's salaries, medicine and any other need that comes. The teachers have asked for a raise- I believe God will provide that as well!
I got an email from Paul last night, telling me that he was going to keep the men working, with the promise to pay them at the end of the week. normally he pays a daily salary. He is taking a huge leap of faith in doing this. These men and women rely on their salaries to feed their families. It is not like our first world realities. They shop daily for food because most do not own a refrigerator or have running water. Let's step out in faith together and be a part of seeing these children continue school. With their new text books now in hand, help us make sure that they will not have to disrupt their education because of lack. Let's complete the new school in time for them to move out of the old school and move in to the BRAND NEW SCHOOL!
Be a part of celebrating God's provision, faithfulness and goodness!
PLEASE DONATE NOW, it is easy with our giving tab!
THANK YOU!! THANK YOU!!!
http://bringingmiracles.com/wp-content/uploads/2014/10/IMG_20141009_142015.jpg
600
800
Cindy Baucom
http://bringingmiracles.com/wp-content/uploads/2013/04/logo.png
Cindy Baucom
2014-10-23 12:15:56
2016-10-25 18:44:14
Some Trust in Chariots...