Psalms 100:4 Enter His gates with thanksgiving and His courts with praise; give thanks to Him and praise His name. 5 For the LORD is good and His love endures forever; His faithfulness continues through all generations.
This scripture is the lifeblood of our school, the very reason it continues to have pulse and life. It exists and continues to run because of God's great faithfulness! It is only because of God's provision through His people being moved, that the children have a place to come for school, that these 15 teachers have been paid salaries, that enough food is provided for the little ones, big ones and those that also glean in Kibera community. There are times when fear has tried to grip my heart and mind and tell me that there is NO WAY that the school can continue to run. I haven't been able to visit churches or speak in groups this year about the great needs facing the children of Kibera, Kenya. Personal challenges will never negate the huge needs present at Miracle Victory Children's Centre. Will you consider making a monthly commitment to our school? Or maybe you have never been able to contribute a financial gift, will you please consider making a one-time gift? Of any amount. Would you or your group consider sponsoring a teacher salary? It is $100 per month. Would you be able to buy a sack of rice or beans? $40 or $60 We will rejoice with whatever amount you are able to give!
Here are some pictures of the work that was completed during the school break in August. Some extensive finish work, flooring, and repairs and kitchen exhaust work needed some immediate attention. A friend from Charlotte and her family were in Kenya for a couple of weeks, visiting the hospital in Kijabe Hospital, where their daughter provided some beautiful artwork, bringing joy, encouragement and the love of the Lord. They have been instrumental in helping us at the school over the years in committed prayer and support. I really wanted her to have a chance to visit at the school while her family was in Kenya. Thankfully, the timing worked out and they were able to spend a day at the school, loving on children and engaging with our teachers. She said that is was difficult to breathe in the school and her eyes were burning due to the heavy smoke all over Kibera.  It permeates the whole area due to multiple charcoal cooking fires every 10 to 20 yards. We had purchased and fashioned a nice cooking area for the school, but poor ventilation caused the smoke to pour into our building during lunch service. Generous donors blessed us and we were able to address the poor ventilation, flooring, walls and other needs.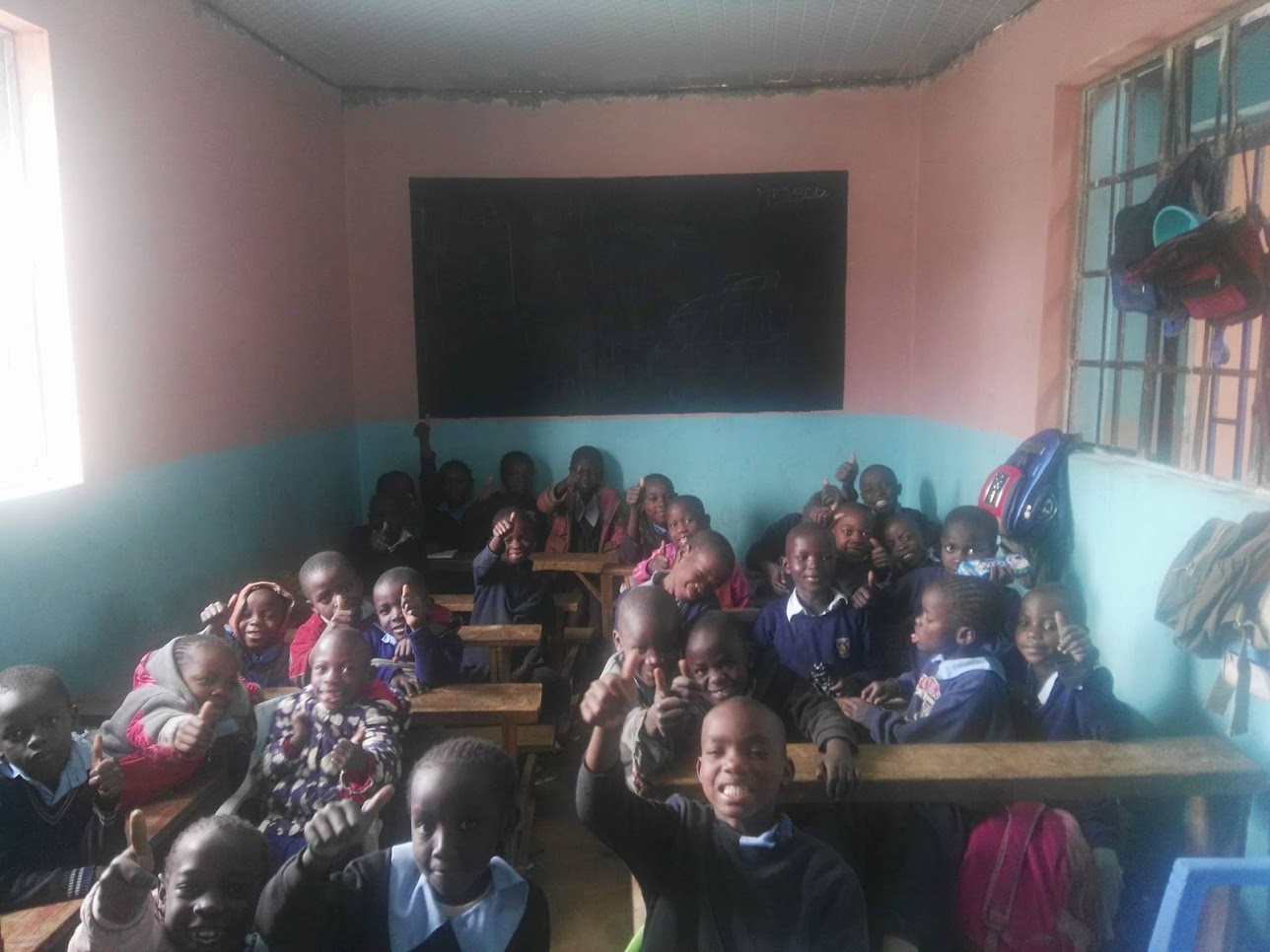 This is one of our 2nd story classrooms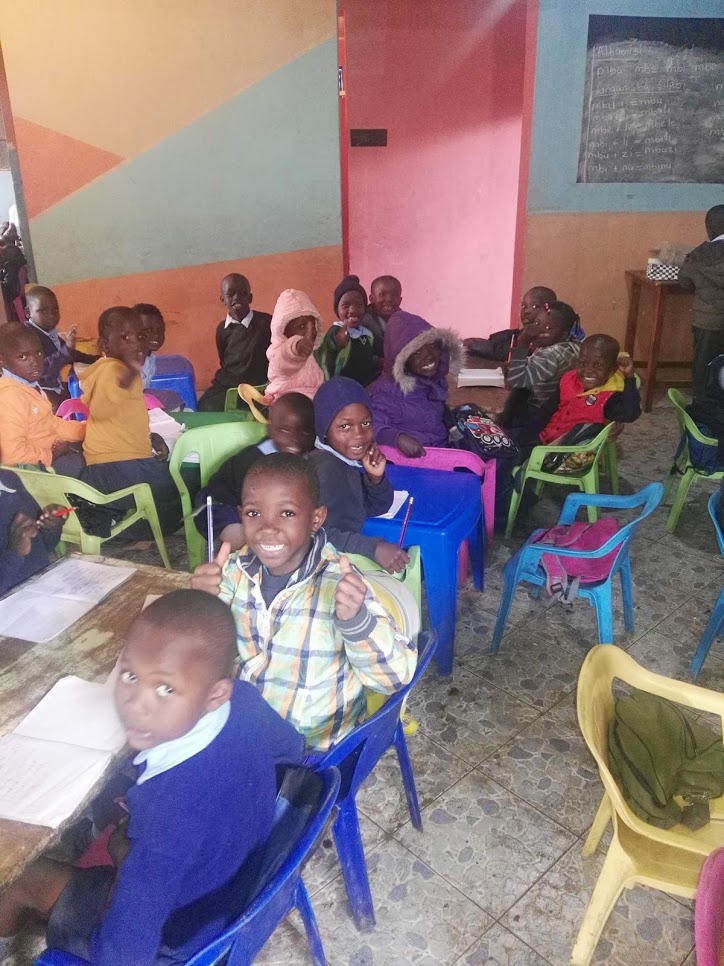 New flooring, new chalkboard and paint to brighten this room.(above)  Love these bright and smiling faces!!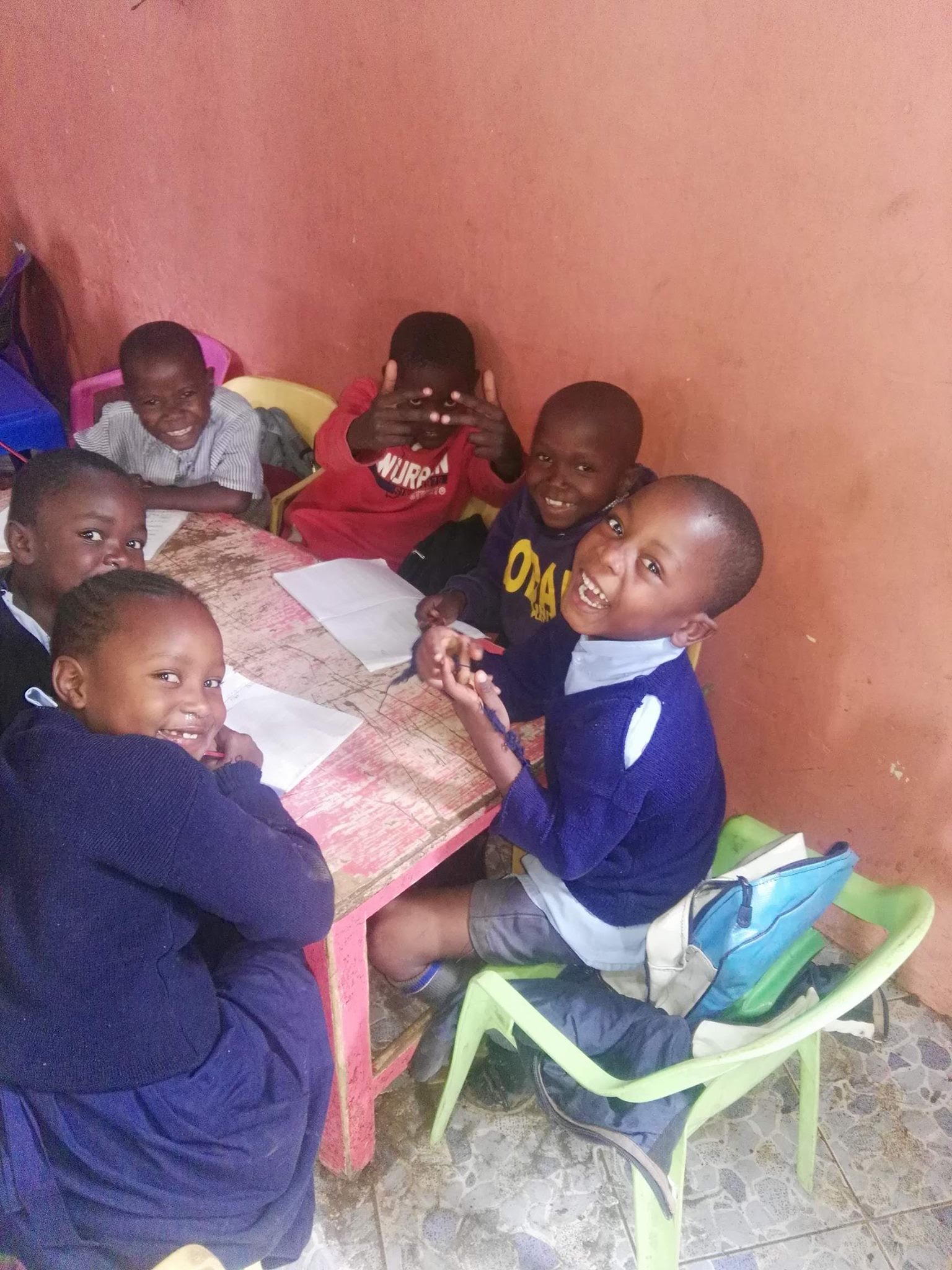 This is our stairwell and 2nd story hallway between classrooms.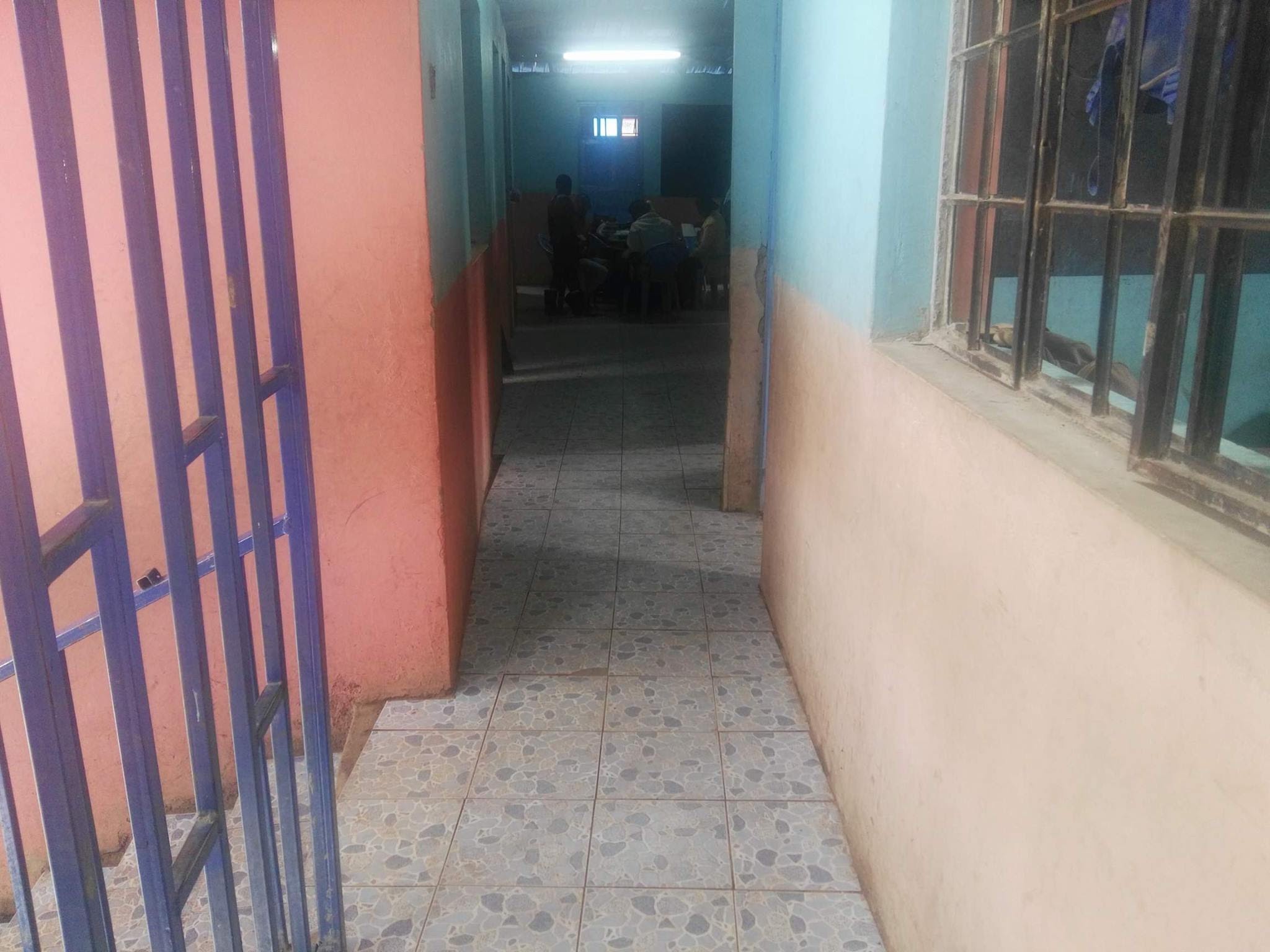 Our kitchen has had many improvements! A table has been built, providing work space for our cooks. A flue now vents the smoke to the outside, rather than spilling into the building.
The pipe outside of the kitchen now vents smoke to the outside.
Please continue to pray for our children for health, protection, family stability, minds to learn and become all that God has desired them to be.
Pray for our teachers, health in them and their families, creative ideas, good time management, provision.
Pray for leadership that they will continue to have a vision and desire to serve their community for God's glory, that the snares of the enemy will be revealed, that their spiritual life will be active.
Pray for all staff for provision, health and protection.
Pray for fresh ideas for the school to make it more self sustaining.
Pray and ask God what your role is in helping these children become future missionaries, teachers, pastors, pilots, etc Help this child!
Donate now   here
Thank you!!!
http://bringingmiracles.com/wp-content/uploads/2013/04/logo.png
0
0
bringDesigner
http://bringingmiracles.com/wp-content/uploads/2013/04/logo.png
bringDesigner
2017-10-01 01:38:38
2017-10-01 01:38:38
God is Faithful