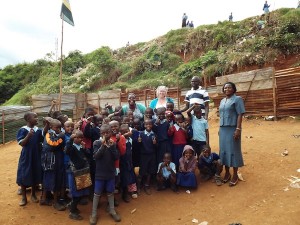 The center is a place of refuge and provision for some of the most vulnerable children in the Kibera community. The children know they can get a hot, nutritious meal and receive love, school instruction and respite from the often harsh slum environment for a few hours. Our school adheres to the Kenyan Ministry of Education syllabus used in schools across the nation. We are building a better facility, providing a better learning environment for the children. There are no fees required for children, enabling even the most vulnerable child to receive a quality education.
An education will help them have a better life, hope for the future and an impact on their community.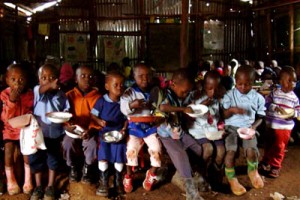 A nutritious hot meal is provided six days a week to the children.  Many children go without food in the slum, often left alone to find scraps from the garbage heaps.  Currently we feed more than 250 children each day.  These children, each with a unique life has faced severe and unimaginable tragedy. Many of the children are total orphans.
There are approx 2.5 million slum dwellers in about 200 settlements in Nairobi representing 60% of the Nairobi population, occupying just 6% of the land. Kibera houses an estimated 1 Million of these people. Kibera, Kenya is one of the biggest slums in Africa and one of the biggest in the world.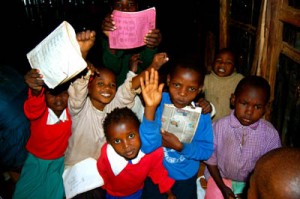 The Children receive academic instruction in a loving environment. Our school adheres to the Kenyan Ministry of Education syllabus used in schools across the nation.  Our vision is to partner with teachers and volunteers, both local and international, to teach the underprivileged children in Kibera, Kenya.
There are no fees required, enabling even the most vulnerable children to receive a quality education. Bringing Miracles, Inc provides food, uniforms, mosquito nets, shoes, medical care,teacher's salaries along with other budgeted needs; we also provide high school & college scholarships to children who have aged out of MVCC .
Education is a highly treasured means to a better life and will provide more opportunities to achieve a healthy life, not only for themselves, but for the community at large. Academic instruction, along with biblical truth, is a part of each school day!
Miracle
&

Victory Centre Staff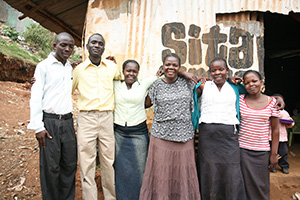 Monica Akinyi:  "My main dream for the Centre is to see my vision and mission come true that is to have a change of life for this kids through creating a good learning environment with water, electricity and nice classroom so that this kids can experience the love and bring hope to them. And allow the most fortune children and the community to see the change and love in these children."
Richard Wali: His dream for the school is to see the school in a new building and high performance of kids to make learning easy so that those children who come from bad backgrounds can experience the love of Christ.
Janet Atieno: "My dream is to see this children , who most of them come from  single parents like Me , is to see the school have a conducive  learning environment with  separate classes instead of 3 classes in one hall which make it overcrowded difficult learning environment. I hope one day I'll be able  to see this come true."
Merceline Adhiambo: "My dream for the school is to see the school grow to a big learning institution. Whereby the children can get enough classes to allow them graduate to the next level without having drop off because of lack of classroom space.
Melvine  Akoth:  "My dream is to see orphans  feel the love, care, and passion  of Christ through good food, classroom  and a clean space to praise God  and enjoy playing. Also I would like to see good, clean bathrooms. I know how it feels to be an orphan because my parents died when I was little and I suffered alot so I want these orphans not to experience what I went through."
Janet  Awino: "There's no better gift you can give to  a Kenyan child than education. My happiness is to see the school have good facilities so that these children can get this precious gift in their life one day. I hope to walk up and see the children have a building and bathrooms."
Wycliffe Opiyo:  "It is hard to teach in a mixed classrooms, but one day I wish the school will have enough classrooms: one room for each grade level."
Selestine Okoth (cook): "It has been so hard  for me to cook outside in the hot sun and sometimes in the rain. It's so hard  even to give the children food because the space is small.  I hope that one day we can havea  kitchen  and a dinning hall so that this children can enjoy their  meal in a hygenic environment."