Leap of Faith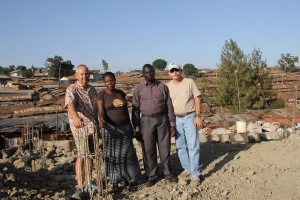 Tommy Burch and Emory Wilson took a huge leap of faith as they made the decision to purchase flights and go into the heart of one of the largest slums in Africa. They had never been to Kenya and had never met Monica or any of the children at Miracle & Victory Children's Centre. They knew they wanted to do something big for God and had a call on their lives to serve and to go and preach the gospel. As Christians, they also know that God goes ahead of you, if He sends you somewhere- He is going to be there- in fact He is already there! We serve a mighty, omnipotent, omniscient God and He is able to make the impossible happen. It is interesting to walk this faith walk. It is usually NOT how I think it will happen. I work really hard at one of the largest hospitals in the US. I work really hard at keeping up with the non profit, trying to do fundraisers, establishing a beautiful website- thanks to Connie Brown, entering non profit contests to try and raise funds, applying for grants- so far unsuccessfully. I have enough to keep me busy with the non profit full time, but I don't have that luxury. Most of the funds come, not because of my hard work and efforts but because God touches someone and they want to give. So, should I just give up working SO hard? I really want to…it is a difficult burden to bear…oh, the children are well worth the efforts, they are made in the image of Our Creator and they need to have the gospel preached and lived out loud, so they can taste and see that God is good.
God is definitely good!
Me…not so good. I fail every day because I am just a human. I fail because I don't always have the right things to say. I fail because I have offended the very people that could possibly help. I fail because I forget things all the time. I really hope that people don't look at me when they are deciding to give to the vulnerable. God, can I just hide in You? Can they just see beyond my failings and forgetfulness and see the joy they can give a child. They will never be repaid. They may never meet these children and receive words of praise from them or hugs from a contented, full and satisfied child.
There are people that have the ability to make a huge difference, but will they? This is a challenge to those of you who never get beyond the thought that I can do something. Go beyond just thinking about it…DO SOMETHING!!!
We need your help!
Luke 12:32-34

"Do not be afraid, little flock, for your Father has been pleased to give you the kingdom. Sell your possessions and give to the poor. Provide purses for yourselves that will not wear out, a treasure in heaven that will never fail, where no thief comes near and no moth destroys. For where your treasure is, there your heart will be also."
http://bringingmiracles.com/wp-content/uploads/2014/01/IMG_8179.jpg
3456
5184
Cindy Baucom
http://bringingmiracles.com/wp-content/uploads/2013/04/logo.png
Cindy Baucom
2014-01-30 00:12:20
2014-03-13 18:01:31
Can I Just Hide?